French Drain Install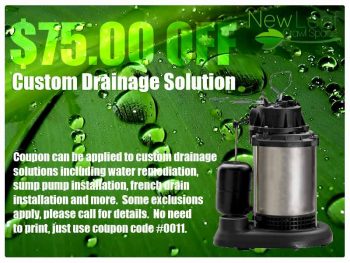 A French Drain is simply a drainage system consisting of trenching, drain pipe and drain rock that diverts water away from the home.  This is usually done to avoid water from flowing underneath the home or pooling in areas around the home or yard that are undesirable.
Careful attention to detail is needed in preparing to install a French Drain.  It is critical to make sure to have the property surveyed and marked for water lines, cable lines, gas lines, etc. so that they are not damaged during the trenching process.  Before beginning a job, we strategically map out the property and configure a plan to effectively divert water away from the home.


Installing a French Drain is dirty work and requires some skill in achieving the correct grade and slope of the trench.  Not only can an improperly dug trench be ineffective, but it can sometimes even make the problem worse.  We have extensive experience in regards to all of our water diverting projects and have proven that we can do excellent work at a fair and reasonable price.
If you are experiencing problems with standing water under or around your home and need some help, please give us a call.  We will come out and do free inspection and estimate.  Even if you do not go with our bid, we can at least give you some advice. We would love to hear from you!